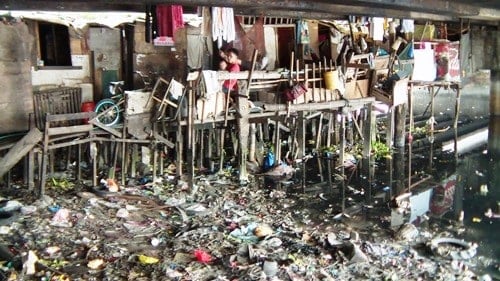 Navotas is one of the most economically and socially disadvantaged areas in Manila (Philippines). In this northwestern district of Manila there are more than 250,000 people, stretching just off the coast. In 1970, hundreds of families from Shamar, Leyte and Bicolsa fled to this area due to the typhoon.
They found a large abandoned dump between Manila Bay and the cemetery and settled at this territory. As you can imagine, crime soon prevailed here, alcohol and drug abuse, while taking care of hygiene and medical care are practically non-existent. With the help of PPF organization, things started to improve slowly, however the pace is really slow.
Poor housing in Navotasu are coordinated by members of the Pag-aalay ng Puso Foundation ("Gift of the Heart"), a nonprofit organization that began operating in 1988 and whose mission is to help build the human conditions in the poorest sectors of Navotas. In addition to the programs of socialization, PPF Foundation provides education for values, teaching aid, health promotion, education and economic skills.
Your donation will help the "Gift of the Heart" Foundation with the implementation of projects for people in slums along the coast of Manila.